Private Cenote Diving in the Riviera Maya
Discover cavern diving and enjoy the amazing Cenotes
You are an experienced Open Water Diver and want to discover a new and amazing environment? Let us guide you to safely enjoy the most amazing cenote dives.
Cenote cavern diving will give you a unique and unforgettable experience.
The best diving conditions you can imagine, unlimited visibility, no current and a water temperature of 76F (25°C) all year around.
There are 15 different cavern dive sites with each one offering something unique and special. Don´t miss it!
 What are the cenotes?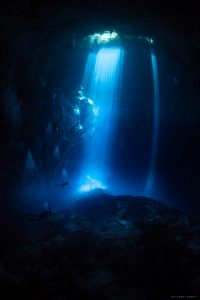 It´s an amazing environment telling us the long geological history of the peninsula of Yucatan. It is the memory of our past constantly giving new evidence on how living organism evolved including us, human. Read more…
Each and every Cenote hides something unique in its cavern. There is no best cavern dive!! You might have a favorite cavern… but it will only be your own personal feeling.
All our cenote guides are experienced professional guides. They will strictly stick to the safety rules for Cavern Diving and make sure you get the best out of every cavern dive.
Cenote dive site will be chosen depending on certified diver's experience or previous cavern diving.
Cavern Dive Sites
A beautiful circuit that will take you somewhere only divers can go. The maximum depth is 14m/50 feet. During the dive you will pass the halocline several time and observe beautiful speleothems while swimming around an air dome.
The blue cristaline water of Kukulkan itself is something surprising! Let the morning sun spread its rays and enjoy the show. The halocline and its blurry effect is a perfect contrast to the clear water to complete the experience. Kukulkan has also its little treasures: Aragonite cristals hidden like little gems in a jewel box .
Chikin Ha means water of the west in Mayan. The entrance from the main Federal road, 10km south of Puerto Aventuras. The parc of Chikin Ha hosts 3 Cenotes, Cenotes X Tabay, Chikin Ha and Ta'ak Bil-ha. Once parked on site a walk leads us to Cenote Chikin Ha which is the beginning of two cavern lines. Both lines start in the open water and cross a wide tunnel with stunning halocline to go up the over side to Cenote Arcoiris (Rainbow).
Cenote El Jardin del Eden aka Ponderosa
A few minutes further south of Chikin Ha is the entrance of El Jardin del Eden (Eden's garden). With a very large open water area this is a very popular place for different activities. Swimmers and snorkelers will love to swim around and enjoy all the colorful fish, the green algae covering the rocks gives an amazing brightness to the pond when the sun is out. The cavern permanent guideline is hidden to prevent damage from people jumping around, first part of the dive the guide will connect to the open water. Then the dives starts in a very large tunnel with dark sediment that absorbs the light. and after a few seconds you will start seeing the light from the other side of the tunnel before you reach Cenote Corral, enjoy the stunning light curtain, one of the most spectacular halocline and many fossils.
Cenote Taj Ma Ha Welcome to Cenote Taj Ma Ha
Cenote Dos Ojos –
Dos Ojos Cenotes offers among the best cavern dives in the world. Dos Ojos in spanish means "two eyes" and was named after the two cenotes right next to each other looking like two large eyes. Both cenotes are connected by a huge cavern in which you can observe some very massive columns. The cave diving exploration of the Dos Ojos system originally started there. Dos Ojos underwater cave is so amazing that it has been featured in big productions:
IMAX movie "Journey into Amazing Caves" in 2002
BBC/Discovery Channel series "Planet Earth" in 2006
Parts of "The Cave" movie was filmed there in 2005
Starting from Dos Ojos you will be able to do two cavern dives, both start and finish at the same place but they are completely different.  
Barbie Line
It is a circuit of 500 meters (1,600 feet) long. You will reach the second eye through the cavern and dive under ceiling along its surface, showing daylight and surface very near by. A highly decorated place with massive brownish formations that will give you the opportunity to swim between huge columns and stalactites.
Bat Cave
It feels almost like cave diving. The dive is a lot darker as it mostly goes around an air dome, the bat cave, with very little daylight penetration. This dives is also highly decorated with much thinner and more subtile and fragile speleothems.  
Cenote The Pit
The Pit is a stunning Cenote far into the jungle, situated upstream from Cenote Dos Ojos, and is part of the Sistema Dos Ojos, one of the biggest subterranean river system in the world. The Pit is 391 ft/119 m that makes it the deepest cenote in the State of Quintana Roo. Originnaly discovered by divers arriving from Dos Ojos Cenote, it is a fascinating place that still goes under very challenging exploration. Diving in this very unique Cenote will bring some unforgettable memories. Although at his best in summer under bright sunshine, the magic is such that you can enjoy this cavern dive all year around. Somewhere around 30m/100ft you will cross a fine hydrogen sulfate cloud. A dead trees sticking out of the cloud makes you feel like diving in a foggy dead forest.Then we slowly ascent up to the cavern ceiling whitch is highly decorated with scalatites of all sizes and shapes.You will get to see the beginning of the cave dives that leads to Dos Ojos and be able to imagine the explorators' feelings when they first reached there…
Cenote Sac Actun (Pet Cemetery)
Closed for diving at the moment :'( But… we love this place so much that we recommand that you take a snorkel tour there, it is worth it!!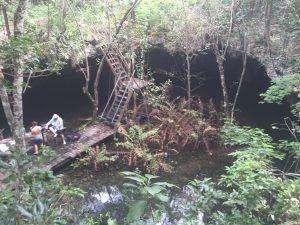 A very well deserved name for this Cenote! It is litteraly the dream cave!! Beautiful, entirely decorated with the finest speleothems, long thin columns, stalactites, stalacmites… big ones, small ones, there are everywhere! Go one way and you will be amazed! Go the other way and you will see something different. These are two amazing dives, but you have to work your way to it to really get the most of it! Dive cenotes, learn from your guide, observe, get the feeling and the level of comfort, crucial to enjoy the place.
Cenote Dream´s gate – Upstream & Cenote Dream´s gate – Downstream
Both dives are very shallow, 20 ft (6m) and covered with very thin sediment, meaning very good buyancy skills are mandatory. We will take you there after evaluating your skills on previous dive. A loss of buoyancy is not only going to ruin the dive but is also going to cause irreversible damage.
Casa Cenote – Cenote Manati
Also known as Cenote Tank Ha Something different! A simple dive full of surprises. It is an open cenote surrounded by the mangrove. Casa
Cenote
connects one of the longest underwater Cave Systems in the world with the ocean. Located a few kilometers north of Tulum  while diving the cavern in Casa Cenote you will truly get the feeling of diving underneath the jungle. The Cenote has a shape of a horse shoe in the middle of the mangrove. The dive consists in following one side under the roots to protect from the current. Yes there can be current there! Navigate through passages and fissures in the limestone and then come back through the beautiful tunnels under the mangrove. Due to the connection with the ocean, you will dive in brackish water and will meet both fresh and saltwater fish. If you are on a lucky day, be patient and keep your eyes wide open for cormorans fishing. There is nothing like seeing a bird underwater in the middle of a mangrove. This cenote is perfect for novice divers and will give you the possibility to see more life than in the other cenotes. It also has a very nice halocline and beautiful light effects. The maximum depth is 8m/30 feet.
Temple of Doom Although its nickname – Temple of Doom – sounds threatening, it's really just refers to the three holes in the top of the cenote that create the image of a skull.   At just over 15m/50 feet, it's relatively shallow and the ambiance is outstanding and full of surprises.  You enter with a 3m/10 ft high giant step. You will come accross a stunning halocline with bluish salt water that highly contrasts with the slightly tannic fresh water. The shallow part is highly decorated with very interesting layers of speleothems.
Gran Cenote – Cenote Grande
This site is very popular with swimmers, snorkelers, and divers. This large cenote features beautiful lily plants and hosts many turtles. Caver divers will visit the large cavern very shallow and highly decorated with white speleothems all along. For certified cavern divers only. Please contact us for your
cavern diver training
.
Cenote Carwash (Actun Ha)
This cenote has the best of everything! The open area is like an aquarium and the cavern area is great.
It is located on the Coba Road 15 minutes from the town of Tulum. The Cenote is just a few meters from the road and has extremely easy access. For that reason, taxi drivers used to wash their cars there. Carwash presents a large and shallow open water pool with two entrances (upstream and downstream) to the cave system. The Cavern general takes place in the upstream side which is way bigger and more decorated. There is no permanent Cavern Line in Carwash so your guide will install one using a primary reel. You will follow that linbe during your dive and come back the same way to recollect it.
During the summer months, an algae blooms at the surface of the cenote. It can be a few meters thick and reduces considerably the visibility. That layer can be quite warm and it filters the sunlight but once you pass below it the water is crystal clear and feels a lot cooler. Below the algae layer the light takes a surprizing and amazing greenish colour. That you will enjoy looking at all time during your cavern dive. The dead trees fallen at the entrance create a beautiful forest that gives a great subject and composition for photographers. At the furthest point of the cavern, where the beginning of the cave is pointed out by a clear sign you will observe many brownish cave formations.. The Open water is also ofgreat interest. The basin has many water lillis as beautiful as fragile and very colourfull. You will see many turtles and don't forget to look around for the crocodile as you come back to the open water. Carwash is also a popular training site for full cave diving training.
Cenote Angelita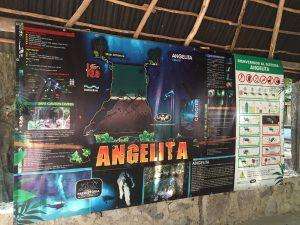 Angelita in spanish means "little angel". It is an atypical Cenote dive in the Riviera Maya and it is a once in a lifetime experience underwater. Situated 17kms south of Tulum, it is the furthest cavern dive site from Playa del Carmen.
After a 5min walk through the jungle, you reach this circular shaped Cenote that goes straight down all the way to more than 60m/200ft.
After descending the clear fresh water you will reach the mystical hydrogen sulfate layer at around 30m/90 ft.  It looks like a huge cloud surrounding an island covered with dead trunks and branches. Those of you who feel comfortable will cross the cloud. The cloud itself is like a very heavy fog with low visibility and a bit smelly. Then once you are below the cloud the visibility is perfect again but it is completely dark, giving the feeling of being in a forest at night.
After a few minutes, we go back up and start ascending in circles along the walls. There are few stalactites but the few ones are huge and are here to remind us those times when the water level was much lower. Angelita is a dive for the experienced diver because of its depth. It is also very popular for 
Technical Diving.
Cenote zapote
START YOUR CAVE DIVING TRAINING
First step in the Overhead environment. You will learn all safety protocols within the daylight zone. 
That's it! this is the first step in the dark caves. You will learn how to do simple cave dives beyond daylight zone
Caves can be very complex, especially in Mexico, we will now combine all the previously learned skills with complex navigation, and more..