Ask us for Group packages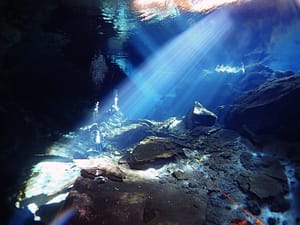 Unveiling the Marvels of Cenote Diving in Mexico: A Paradise for Certified Open Water Divers
Experience the Extraordinary:
Cenote cavern diving promises a truly one-of-a-kind and indelible experience. Picture-perfect diving conditions await – think endless visibility, tranquil currents, and a comfortable water temperature of 76°F (25°C) that remains constant throughout the year.
Dive into Diversity:
With a plethora of 15 distinct cavern dive sites to explore, each site offers its own exceptional features that promise to captivate your senses. The offerings are simply too intriguing, from stunning rock formations to hidden underwater passageways.
Unraveling the Cenote Mystique:
Let us introduce you to the mesmerizing world of cenotes, the natural sinkholes that are not just captivating diving spots but also windows to the rich geological history of the Yucatan peninsula. These submerged marvels serve as repositories of the past, continually offering insights into the evolution of life on Earth, including humans. Explore deeper into the cenote phenomenon and discover the secrets they hold.
Every Dive, a Discovery:
The appeal of cenote diving lies in the unique surprises each cavern conceals within its depths. There's no definitive "best" cavern dive; the experience is entirely personal, with each diver forming an intimate connection with their chosen site.
Guided by the Best:
Our team of cenote guides comprises skilled professionals and instructors with a wealth of experience. Prioritizing safety above all else, they adhere rigorously to the established safety protocols for Cavern Diving. Count on them to ensure your security and an enriching and fulfilling cavern diving encounter.
Tailored to You:
At Deep Dark Diving, we understand that every diver's journey is special. That's why we meticulously recommend or select the perfect cenote dive site based on the certified diver's experience and past cavern diving escapades.
Are you ready to take the plunge into the mystical realm of cenote diving? Allow us to be your companions as you unravel the hidden treasures of Mexico's cenotes. Whether you're an inquisitive explorer or an experienced Open Water Diver seeking a fresh thrill, cenote diving promises an adventure like no other. Embrace the allure of these captivating underwater caverns and let your underwater odyssey begin. Book your cenote diving experience today! And feel the excitement.
What are the cenotes?
Read more about the cenotes… Discover our very special Cenote Zapote and its unique formations.
Cenote dives for certified divers – Cavern diving
Cenote Chac Mool

Cenote Chac Mool offers a beautiful circuit that will take you somewhere only divers can go. The maximum depth is 14m/50 feet. You will often pass the halocline during the dive and observe beautiful speleothems while swimming around an air dome.

Read more about Cenote Chac Mool…
Cenote Kukulkan

The blue crystalline water of Kukulkan itself is something surprising! Let the morning sun spread its rays and enjoy the show. The halocline and its blurry effect perfectly contrast with the clear water to complete the experience. Kukulkan also has its treasures: Aragonite crystals are hidden like little gems in a jewel box.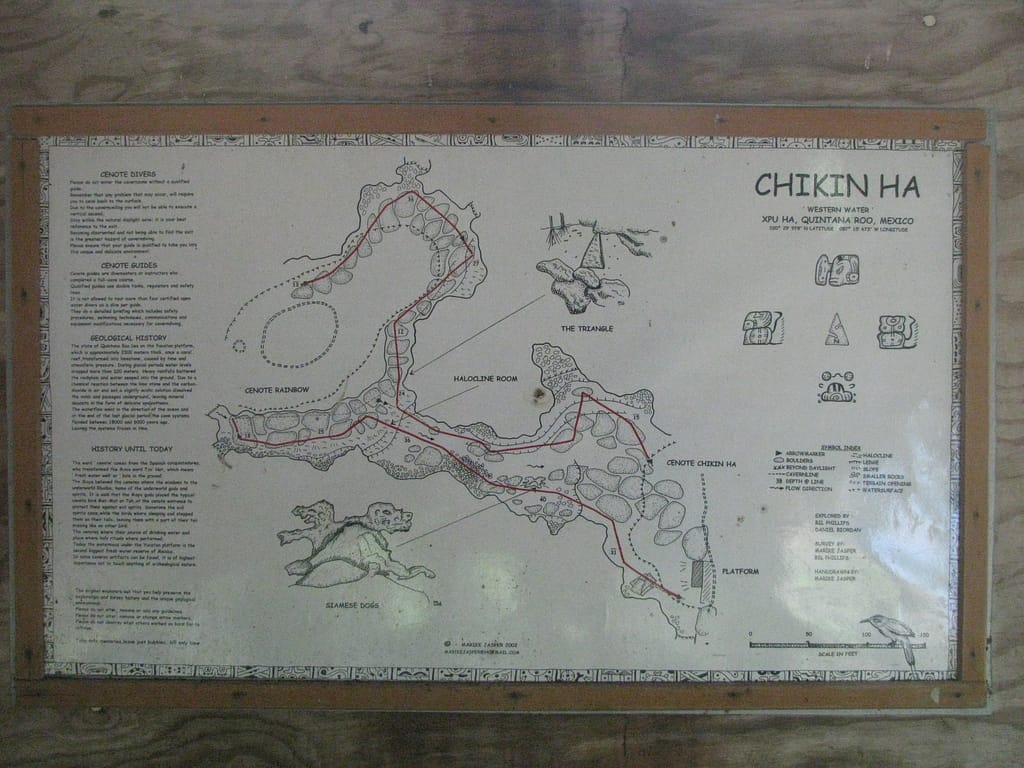 Cenote Chikin Ha

Chikin Ha means water of the west in Mayan. The entrance from the main Federal road, 10km south of Puerto Aventuras. The parc of Chikin Ha hosts 3 Cenotes, Cenotes X Tabay, Chikin Ha, and Ta'ak Bil-ha. Once parked on-site, a walk leads us to Cenote Chikin Ha, beginning two cavern lines. Both lines start in the open water and cross a wide tunnel with a stunning halocline to go up the overside to Cenote Arcoiris (Rainbow).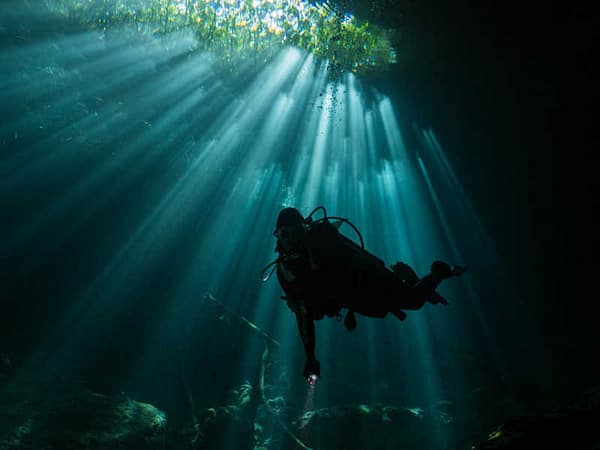 Cenote El Jardin del Eden aka Ponderosa

A few minutes further south of Chikin Ha is Cenote El Jardin del Eden (Eden's garden) also known as Cenote Ponde Rosa. With a huge open water area, this is a trendy place for different activities. Swimmers and snorkelers will love to swim around the natural pool and enjoy all the colorful fish. The green algae covering the rocks gives an amazing brightness to the pond when the sun is out.

The permanent cavern guideline is hidden to prevent damage from people jumping around. The guide will connect to the open water in the first part of the dive. Then the dives start in an extensive tunnel with dark sediment absorbing light. And after a few seconds, you will start seeing the light from the other side of the tunnel before you reach Cenote Corral; enjoy the stunning light curtain, one of the most spectacular haloclines, and many fossils.
Cenote Taj Ma Ha

Welcome to Cenote Taj Ma Ha.

One of our favorites! But it left us speechless 😉 Work in process. Contact us, and we will give you as many details as you wish about Cenote Taj Ma Ha.

A great place for all levels of diving, from recreational divers wishing to discover cavern diving in the Cenote, Cave divers in training at all levels, and even very advanced levels such as DPV cave or rebreather cave diving. Endless possibilities for spectacular diving.
Cenote Dos Ojos

Dos Ojos Cenotes offers among the best cavern dives in the world. Dos Ojos in Spanish means "two eyes" and was named after the two cenotes right next to each other, looking like two large eyes. Both cenotes are connected by a huge cavern where you can observe massive columns. The cave diving exploration of the Dos Ojos system originally started there. Dos Ojos underwater cave is so amazing that it has been featured in big productions:

IMAX movie "Journey into Amazing Caves" in 2002
BBC/Discovery Channel series "Planet Earth" in 2006
Parts of "The Cave" movie was filmed there in 2005

Starting from Dos Ojos, you can do two cavern dives. Both start and finish at the same place but are completely different.

Barbie Line

It is a circuit of 500 meters (1,600 feet) long. You will reach the second eye through the cavern and dive under the ceiling along its surface, showing daylight and the nearby surface. This highly decorated place with massive brownish formations will allow you to swim between huge columns and stalactites.

Bat Cave

It feels almost like cave diving. The dive is darker as it mostly goes around an air dome, the bat cave, with very little daylight penetration. This dive is also highly decorated with much thinner, more subtle, and fragile speleothems.

Discover Dos Ojos Park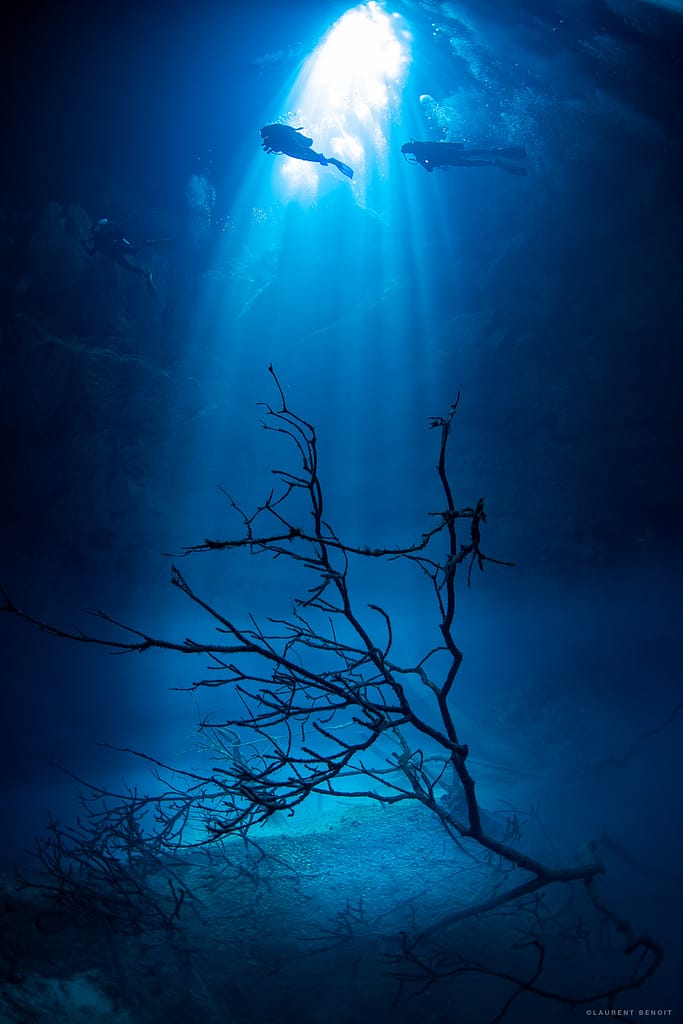 Cenote The Pit – Dos Ojos

The Pit is a stunning Cenote far into the jungle, situated upstream from Cenote Dos Ojos, and is part of the Sistema Dos Ojos, one of the biggest underground river systems in the world.

The Pit is 391 ft/119 m, making it the deepest cenote in Quintana Roo. Originally discovered by divers arriving from Dos Ojos Cenote, it is a fascinating place that remains challenging to explore.

Diving in this unique Cenote will bring some unforgettable memories. Although at its best in summer under bright sunshine, the magic is such that you can enjoy this cavern dive all year round.

Somewhere around 30m/100ft, you will cross a fine hydrogen sulfate cloud. A dead tree sticking out of the cloud makes you feel like diving into a foggy dead forest. Then, you slowly ascend to the cavern ceiling, highly decorated with stalactites of all sizes and shapes. You will see the beginning of the cave dives leading to Dos Ojos and imagine the exploratory feelings when the explorers first reached there…
Cenote Sac Actun (Pet Cemetery)

Cavern at Cenote Pet Cemetery

Closed for diving at the moment :'( But… we love this place so much that we recommend you take a snorkel tour there, it is worth it!!
Cenote Dreams´gate
A very well-deserved name for this Cenote! It is the dream cave!! Beautiful, entirely decorated with the finest speleothems, long thin columns, stalactites, stalagmites… big ones, small ones, there are everywhere!
Go one way, and you will be amazed! Go the other way, and you will see something different.
These are two amazing dives, but you must work your way to them to make the most of it! Dive cenotes, learn from your guide, observe, and get the feeling and comfort level crucial to enjoying the place.
CENOTE DREAM´S GATE – UPSTREAM & CENOTE DREAM´S GATE – DOWNSTREAM
Both dives are shallow, 20 ft (6m), and covered with very thin sediment, meaning excellent buoyancy skills are mandatory. We will take you there after evaluating your skills on the previous dive. A loss of buoyancy will not only ruin the dive but will also cause irreversible damage.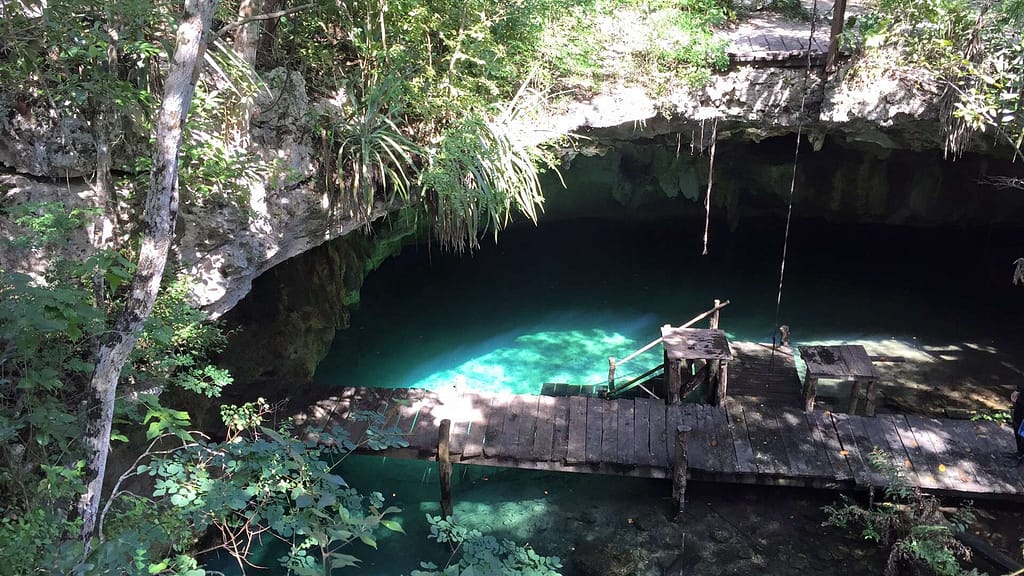 Casa Cenote – Cenote Manati
Also known as Cenote Tank Ha, Something different! A simple dive full of surprises. It is an open cenote surrounded by mangroves.
Casa Cenote connects one of the longest underwater Cave Systems in the world with the ocean. Located a few kilometers north of Tulum, while diving into the cavern in Casa Cenote, you will truly get the feeling of diving underneath the jungle.
The Cenote is shaped like a horseshoe in the middle of the mangrove. The dive follows one side under the roots to protect from the current. Yes, there can be current there! Navigate through passages and fissures in the limestone and then return through the beautiful tunnels under the mangrove.
Due to the connection with the ocean, you will dive in brackish water and meet fresh and saltwater fish. If you are on a lucky day, be patient and open your eyes for cormorants fishing. There is nothing like seeing a bird underwater in the middle of a mangrove.
This cenote is perfect for novice divers and will allow you to see more life than other cenotes. It also has a very nice halocline and beautiful light effects. The maximum depth is 8m/30 feet.
More advanced divers will appreciate the variety and contrast of this unique cenote.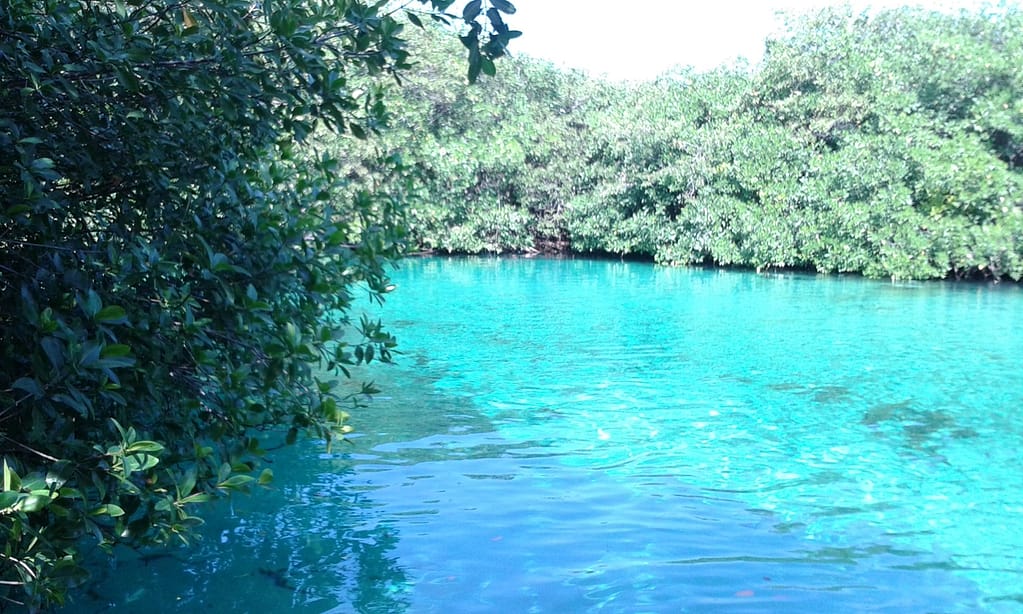 Cenote Calaveras or Temple of doom
Although its nickname – Cenote Temple of Doom – sounds threatening, it's just referring to the three holes in the top of the cenote that create the image of a skull. At just over 15m/50 feet, it's relatively shallow, and the ambiance is outstanding and full of surprises. You enter with a 3m/10 ft high giant step. You will come across a stunning halocline with bluish saltwater that highly contrasts with the slightly tannic fresh water. The shallow part is highly decorated with fascinating layers of speleothems.
Gran Cenote – Cenote Grande
This site is very popular with swimmers, snorkelers, and divers. This large cenote features beautiful lily plants and hosts many turtles. Caver divers will visit the large cavern, which is very shallow and highly decorated with white speleothems, looking like melted candles. For certified cavern divers only. Please get in touch with us for your cavern diver training.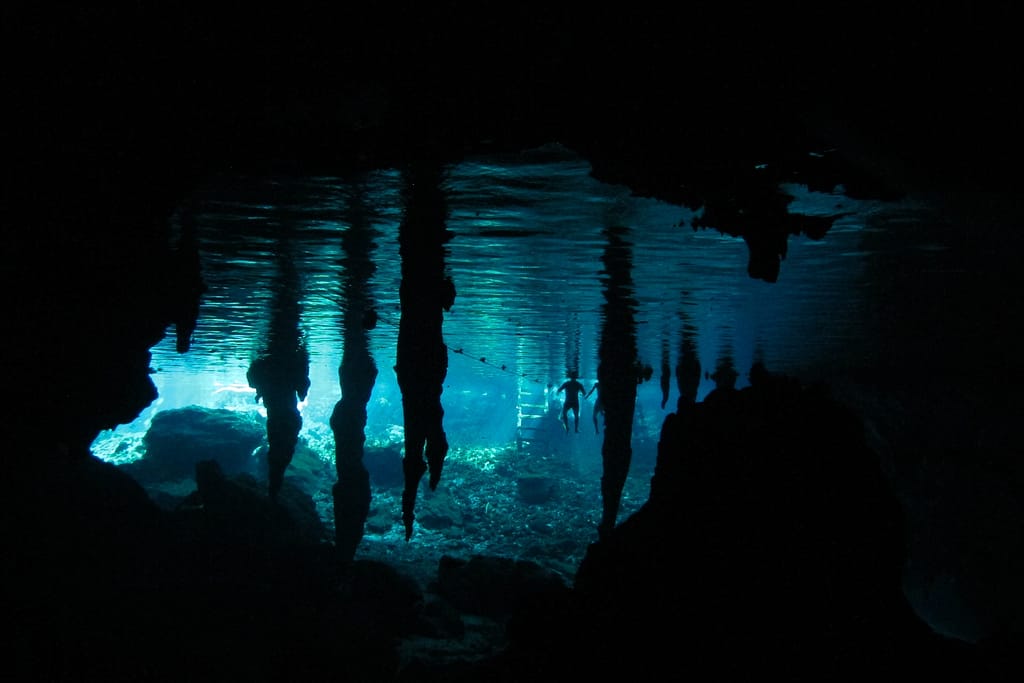 Cenote Carwash (Actun Ha)
This cenote has the best of everything! The open area is like an aquarium, and the cavern area is great.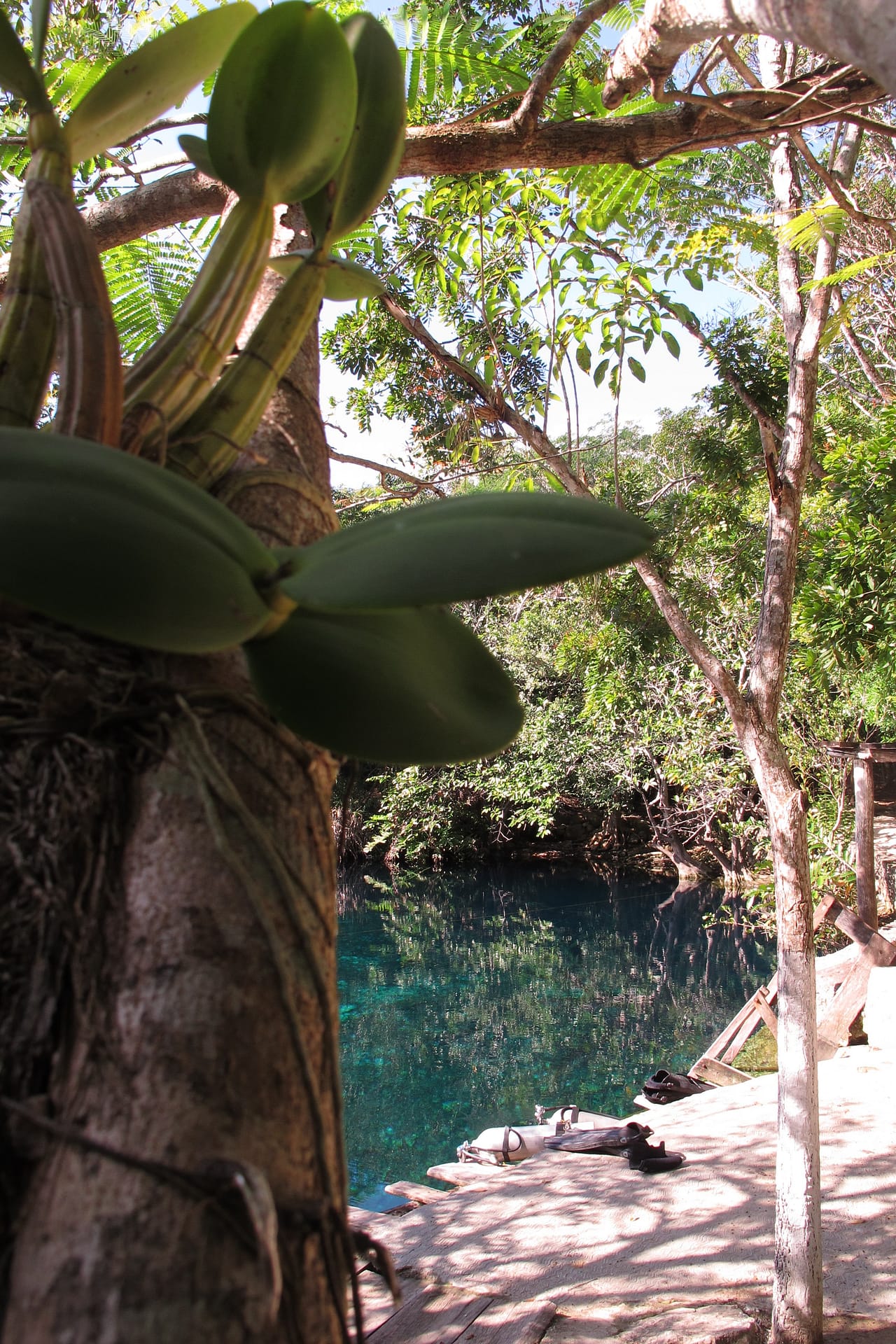 It is located on Coba Road, 15 minutes from the town of Tulum. The Cenote is just a few meters from the road and has effortless access. For that reason, taxi drivers used to wash their cars there. Carwash presents a large and shallow open water pool with two entrances (upstream and downstream) to the cave system. The Cavern general takes place on the upstream side, which is way bigger and more decorated. Carwash now has a permanent Cavern Line, but a few years ago, your guide had to install one using a primary reel, a mandatory skill that any trained cavern and cave divers should master.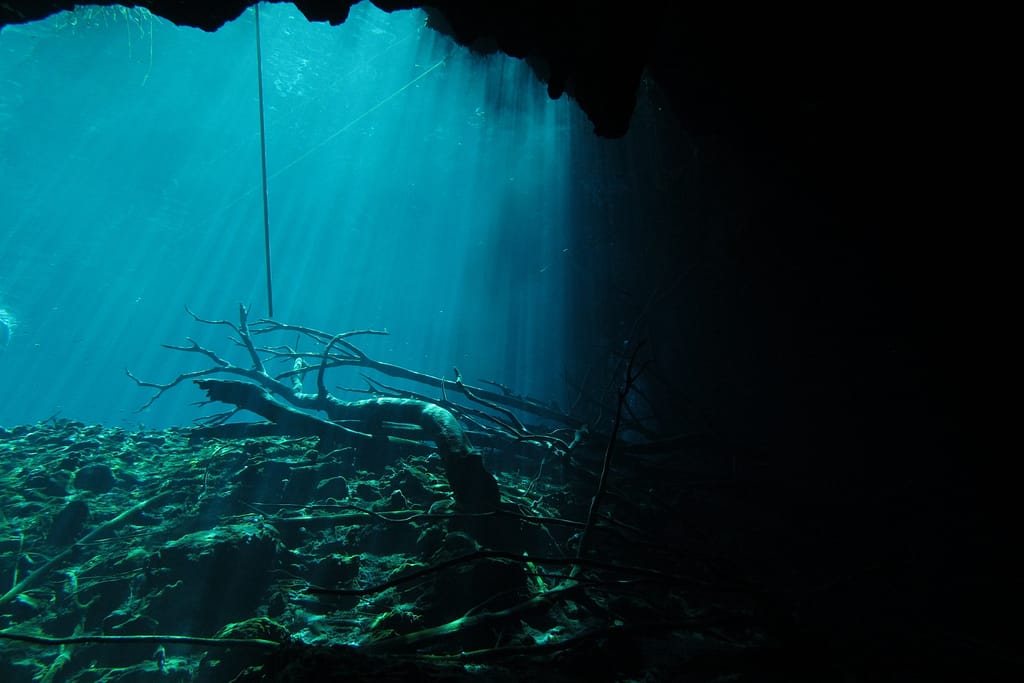 During the summer months, an alga blooms at the surface of the cenote. It can be a few meters thick and considerably reduces the visibility. That layer can be quite warm and filter the sunlight, but once you pass below it, the water is crystal clear and feels much cooler. Below the algae layer, the light takes a surprising and amazing greenish color.
You will always enjoy the cavern's atmosphere during your cavern dive. The dead trees at the entrance create a beautiful forest that gives photographers a great subject and composition.
At the furthest point of the cavern, where a clear sign points out the beginning of the cave, you will observe many brownish cave formations.
Open water is also of great interest. The basin has many beautiful, fragile, and colorful water lilies. You will see many turtles, and don't forget to look around for the crocodile as you return to the open water. Carwash is also a popular training site for full cave diving training.
Cenote Angelita

Angelita in Spanish, means "little angel." It is an atypical Cenote dive in Tulum and a once-in-a-lifetime underwater experience. Situated 17 km south of Tulum.
After a 5-minute walk through the jungle, you reach this circular-shaped Cenote that goes straight down to more than 60m/200ft.
After descending the clear freshwater, you will reach the mystical hydrogen sulfate layer at around 30m/90 ft. It resembles a huge cloud surrounding an island with dead trunks and branches.
Those of you who feel comfortable will cross the cloud. The cloud is like a heavy fog with low visibility and is a bit smelly. Then, once you are below the cloud, the visibility is perfect again, but it is completely dark, giving the feeling of being in a forest at night. After a few minutes, we go back up and start ascending in circles along the walls.
There are few stalactites, but the few are huge and are here to remind us of those times when the water level was much lower. Angelita is a dive for the experienced diver because of its depth.
It is also a great training site for Technical Diving.
Deep Dark Diving loves taking their Deco Procedures, Extended Range and Trimix students at depth on the graduation dive after successfully completing the course. The conditions are perfect for safely enjoying a Deep Dive. Plan a multilevel dive with a maximum depth of 45m/135ft or 55-60 m/165- 180 ft, stay some time at depth below the cloud, ascend to 28-30m/90-100 ft, right above the could stay some time and execute the decompression plan. A unique experience for any technical diver.
Cenote zapote
Cenote Maravilla
Check our blog post by our friend and colleague Peio from No Limit Mexico to learn about cenote Maravilla.
START YOUR CAVE DIVING TRAINING
Do you want to know what's behind the cavern area? Do you want to take charge of your cavern dive and fully understand and handle your security?
The first step in the Overhead environment. You will learn all safety protocols within the daylight zone.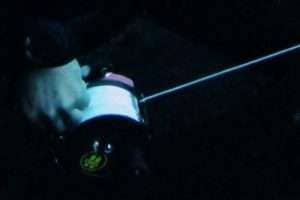 That's it! this is the first step in the dark caves. You will learn how to do simple cave dives beyond the daylight zone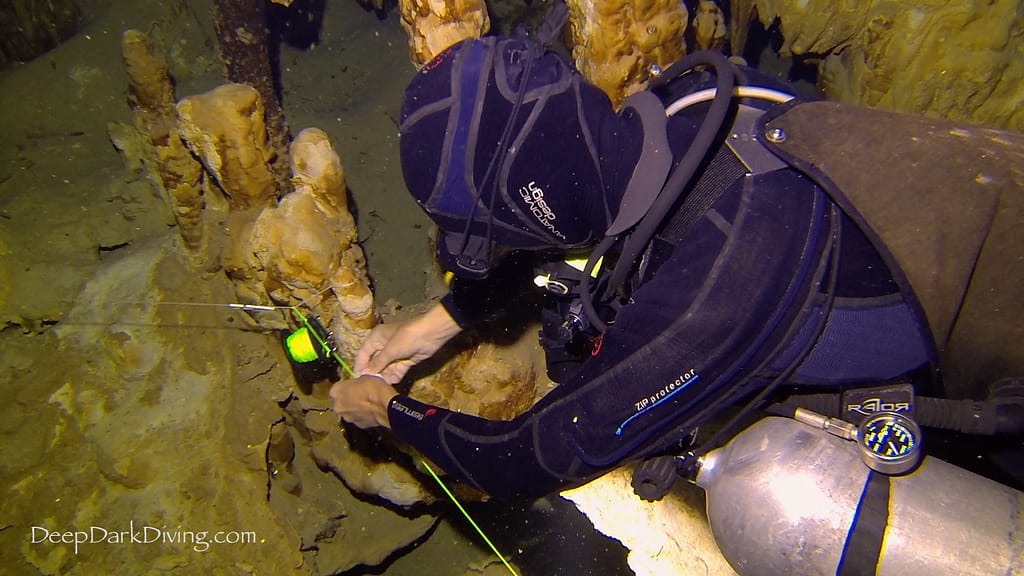 Caves can be very complex, especially in Mexico. We will now combine all the previously learned skills with complex navigation and more…