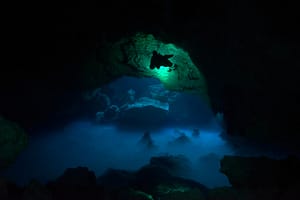 Cenote Chac Mool offers divers the possibility to dive a beautiful circuit that will take you somewhere only divers can go.
Cenote Chac Mool is located only 20 minutes away from Playa del Carmen, in Puerto Aventuras.
You will start your dive from the tiny entrance, Cenote little brother. The maximum depth is 14m/50 feet, and it requires a few depth changes along with the dive.
You will pass the halocline several times during the dive and observe beautiful speleothems (stalactites, stalagmites, columns) while swimming around an air dome.
On a sunny day, you can enjoy the beautiful light curtain. Also, the color of the water is very changing depending on the season and can range from a crystal clear greenish to bright yellow.
This dive is ideal for beginners of for the first time visiting the Cenotes and is usually combined with Cenote Kukulkan.
Certification needed: OW Diver
Difficulty: Medium
Entry fee: 250$ Pesos
Access to the water: short walk from the parking lot and Stone steps to both Little Brother and Chac Mool
Max depth: 15m/50f
Infrastructure: Bathroom – Changing room – Snack bar
Combine with: Kukulkan – El Eden – Taj Ma Ha
Features: light, fossils, halocline, stalactites, air dome
Deep Dark Diving offers daily private tours to Dive Cenote Chac Mool. Do not hesitate to contact us.