All the Cenotes offering the possibility to do a Cavern dive present a board with clear and explicit pictograms regarding the safety rules for cenote diving for certified divers. We encourage you to look at it and ask your guide what may remain unclear.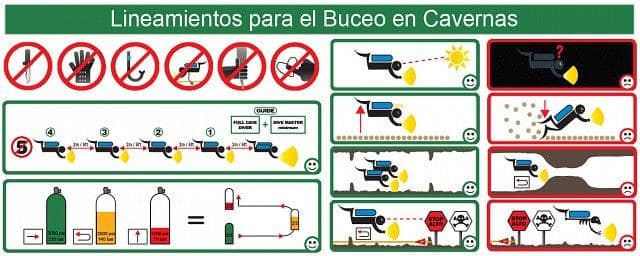 ---
– No Knives: during your cavern dive. There are no fishing lines and no use for a knife. Your guide is a trained cave dive diver. In case of entanglement into the guideline, your dive guide will deal with the problem
– No Gloves: The water in the cenotes is warm, so gloves are unnecessary during your cavern dive. Do not touch anything. Also, illuminated hand signals are clearer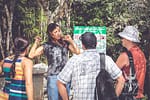 – No snorkel – Gear streamlined and stowed
– Do not remove any stalactite, rock, a fossil from the dive site
– No touching, no scratching, do not leave any visible mark
– Divers go behind the guide in a single file, maximum of four divers per guide
– The guide must be a Divemaster or Dive Instructor in teaching status and be a certified Full Cave Diver
– Manage your Air using the rule of thirds
– Natural sunlight should be visible at all times, do not go beyond natural sunlight
– Follow the guideline at all times, do not go off the guideline
– Adopt good trim, buoyancy, and propulsion techniques,
– Do not remove sediment. It might result in the loss of visibility, and it is part of the cave formation, so you should treat it respectfully
– Do not pass through any restricted areas. At all times, two divers should fit side by side or one on top of each other
– Limit your penetration to 60m/200 feet even when sunlight is still visible. You should not pass this distance without proper Cave diving training.
Remember: There is nothing beyond these limits worth dying for! Do not put your life at risk, and follow the rules.
The cenote dives are full of surprises and amazing dives all year round. Enjoy!
We are passionate and experienced instructors and guides and will love to show you this amazing and unique art of nature in the safest way possible.