What is an Intro to Tech diving course?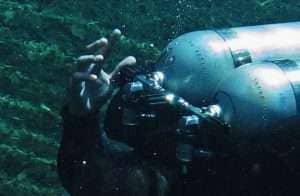 The Intro to Tech Course extends recreational diver training by improving dive planning methods, in-water skills, and streamlining gear configurations.
After following the Intro To Tech training, you will become a more proficient diver and expand your diver skills and knowledge.
Objectives of the Intro to tech course
The main objectives are to become familiar with the change of dive configuration. If you are enrolling in an intro to tech diver course, you are already an experienced open diver with a strong interest in technical diving or cave diving or a great desire to improve your skills and safety. You have been diving in a single back-mounted tank with a BCD, and you will now dive back mount with a twinset.
If you wish to move straight to a Sidemount configuration, we recommend you to check the TDI Sidemount course or the Razor Side Mount course from Go Side Mount.
Still hesitating between Sidemount and backmount configurations? Ask for try dives a two-days program where you get to try both configurations with an experienced instructor, learn the basics and safely do a try dive.
Be prepared to change your mindset and start focusing on details. We will emphasize safety while learning new swimming techniques, including the famous back kick! And more essential diving skills such as sharing gas with a long hose and performing a valve drill in backmount configuration. You will greatly expand your diver's knowledge and start your technical diving training.
Prerequisites
Minimum age 18, 15 with parental consent
Minimum certification: Open Water Scuba Diver or equivalent
25 logged dives
Duration of an Intro to tech course
What do I learn in an Intro to tech course?
In-depth dive planning,
advanced buoyancy control
finning techniques
gas management,
situational awareness,
proper trim,
gear configuration
backmount diving in a twinset