Are you planning a dive trip to the Yucatan Peninsula in Mexico? After coming across amazing pictures of the Cenotes and being stunned, you want to see the caves with your own eyes and live the diving experience.
But you keep wondering: is Cenote diving for me?
What are Cenotes?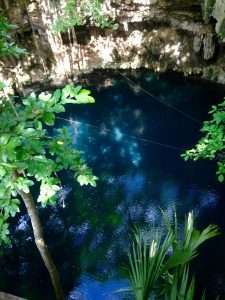 Cenotes are sinkholes distributed all over the Yucatan Peninsula. They are the window to the underwater caves and caverns, the main dive attraction in Playa del Carmen, and a top dive destination globally.
You will dive in caves highly decorated with stunning speleothems such as stalagmites and stalactites, making them unique.
Your first Cenote diving experience will probably be a cavern diving tour. You are not required to have a cave diving certification as you will not be technically entering the cave.
When diving in Cenotes, you will always see natural light and have a sight of a direct way out of the cavern. However, do not underestimate safety, even if it seems like an easy dive. And here are some thoughts to consider before going for a cavern dive.
Will I dive in tight places?

No, you won't!
It is a requirement for all cavern dives in the Cenotes to go through areas where two divers can fit side by side at all times. You will not swim in any tight areas, also called restrictions in cave diving.
Should any problem arise, you will be able to swim side by side with your guide to exit the cavern.


Can accidents happen while diving in the Cenote?
Yes, they can happen.
At Deep Dark Diving, we take your safety (and ours) very seriously. Your cavern guide will be a qualified and experienced instructor and a certified cave diver. Of course, a more experienced guide can better recognize and react in case of a bad situation. And the better they know the site, the better they can handle the situation. And an experienced cavern guide can better anticipate and prevent any issues.
Cavern diving by the book is safe. The dive conditions are optimal: shallow dives, no current, great visibility, group size limited to 4 divers maximum per guide, and all experienced divers.
We recommend you carefully choose your dive operator or guide. And remember, the most experienced the guide, the better they can show you around and commit to safety and conservation.
Deep Dark Diving only manages private guiding in the Cenotes or pre-organized groups. Knowing your dive buddy contributes greatly to your safety, comfort, and overall enjoyment while diving.
Are we diving in the dark during a cavern dive?
Yes, you are!
Some parts in the Cenotes are very dark, and darkness can alter your sense of orientation, and you could feel that you could get lost easily. For these reasons, in the Cenotes, everyone is diving with a dive light.
Your cavern guide should be carrying all their full cave gear that includes a bright and long-lasting primary light used for showing you around and for communication, as well as two backup lights. And you should carry at least one dive light.
The waters in the Cenotes are crystal clear and will stay that way if all divers follow the basic rules: maintain good buoyancy, swim using non-silting kicking techniques, and follow the guideline.
Will I be able to find my way during the cavern dive?

Yes, as long as you follow the Guide Lines
One of the main safety rules in cavern diving in the Cenotes is referencing the guideline at all times. Your guide will explain how to identify and use it and where to position yourself. The same guideline will show you the way out. You should also be able to rely on your guide and follow them at all times.
We strongly recommend diving the Cenotes. It is a unique and magical experience. Always make sure you dive well within your limits. Remember the golden rule: anyone can call the dive, at any time, for any reason. So do not hesitate to call the dive if you feel like it.
When you are ready to book your dive tour in Cenotes, remember that safety is important. Cenote diving is for advanced divers who are sharp in their dive skills, so don't hesitate to refresh them with a few ocean dives before you head for the cenotes.
Enjoy your Cavern dive in Cenote 🙂
Deep Dark Diving offers private guiding or personalized group packages. And for divers who wish to learn more, continue their education, and get the best out of their Cenote diving experience, Deep Dark Diving also offers cavern diving training in the Cenotes. Maybe someday, you will become a full cave diver! Why not?!
Do not hesitate to contact us for more information.