Ocean diving in the Riviera Maya:
Warm, calm, and absolutely amazing clear water with exotic sea life, divers of all levels and from all over the world will love to explore the many fantastic undersea environments this region of the globe has to offer.
You will get the opportunity to dive on one of the largest coral barrier reef in the world and every dive site will bring its lot of surprises.
In winter pregnant female bull sharks come to the shallow waters along the coast in front of Playa del Carmen. Will you dare dive with them?
This is an amazing dive where you just go down to ~25m/75ft on a sand patch and just enjoy the amazing show of many bull sharks peacefully and gracefully swimming around you.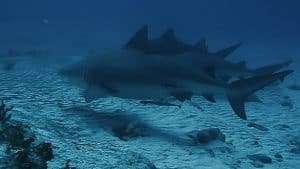 Ocean diving in Cozumel on a Day trip from Playa del Carmen
The fast boat takes you directly to Cozumel in approximately 40 minutes, straight to the dive site. The first dive in Cozumel is tipically a deep dive on a wall with a maximum dive depth of around 70-80 feet/20-24 meters. The second dive is on a shallower reef at around 40-50 feet/12-15 meters.
Ocean diving in Playa del carmen
Diving Playa del Carmen is a great option if you want to discover or rediscover Caribbean diving with the ease of flying to Cancun, Mexico, rather than to a remote island.
You feel like deep diving in the ocean contact us for more details.