You can think of cave diving as very demanding and more dangerous than reef diving, but cave dives are safe and extremely rewarding when executed properly. After completing your cave diver training, you will travel to amazing places such as the Bahamas islands and the Cenotes of Yucatan in Mexico, discover places only a few people have ever seen, and get a sense of exploration.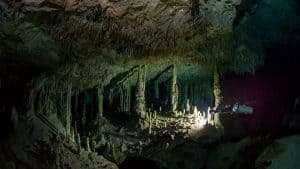 To become a cave diver, you will have to go through rigorous training. The steps and levels can slightly differ from one training agency to the other, but your training will strongly depend on the instructor's experience in cave diving and teaching. So make sure you get the right instructor for yourself.
Here are a few thoughts…
Can I become a cave diver?
First of all, you need the right motivation: an interest in caves and cave diving. If you're a thrill-seeker: pass your way!
Any Open water diver with sufficient experience and habilities can start a cave diving training program. It would be best if you were confident diving in low-light and low visibility conditions. It would help if you were qualified or comfortable learning in a two-tank system, either side mount or back mount configuration.
Cave diving demands a serious and confident approach and discipline to meticulously conduct every dive, every time.
Anti silting swimming techniques
Use a line and reel
Stress management
Dealing with problems safely and calmly
Become an aware and safe cave diver
Geology, cave formations and conservation
a lot more…
What equipment will I need for cave diving training?
Two tanks configuration: sidemount or backmount
Three torches (Primary light source and two backups)
Line cutters
Reels and spools
Personal markers
Make sure to talk to your instructor before purchasing any item to ensure that you're getting the right gear.
Where can I learn to cavern dive?
The first step of the full cave diver training is to train in a cave diving area to get real experience and inspire you to continue as a cave diver. The Cenotes of Mexico in the Yucatan Peninsula offer amazing training and diving sites and remain one of the world's most popular cave diving destinations.
Where can I learn to cave dive?
The cave diver training is a two-step course. During the introductory course's first part, you will learn to complete simple cave dives following a single continuous guideline.
The final part of cave training is mainly about adding complexity to navigation inside the cave. For that last part of the training, we highly recommend the caves of Mexico. These very complex systems offer a large number of dive sites and scenarios possibility for training. The warm water and shallow caves will enable you to stay longer underwater, practice, and focus on cave-related skills.
All around the world 🙂
Among popular places to go cave diving for pleasure are Florida, the Bahamas, Dominican Republic, France, and the Yucatan Peninsula.
I feel ready to become a cave diver!
We might or might not be the right instructors for you, but don't hesitate to contact us if you have any doubts or questions.
Most of all, if you are ready, welcome to the amazing world of cave divers.