Cenote Adventures: Dive into the Depths with our Guided Cave Dives for an Unforgettable Subterranean Experience!
In Yucatan, there are hundreds of cenotes accessible to certified cave divers. Some might be easy to find, but let us take you off the beaten path.
Why a cave Guide?
– Safe cave diving
A cave guide is up to date with the dive conditions, with much cave diving experience and constant practice. All our cave guides live and have been safely cave diving in the Riviera Maya for many years.
– Safety again
A cave diving guide already knows the cave and the system and can assure you that it suits your level and your cave diving skills.
– Fun cave diving
Deep Dark Diving can take you on long and beautiful cave dives that might take you an entire week of cave diving to find on your own if you ever find it…
– Time
A Cave guide will drive you directly to the right cenote entrance and point you to the cave entrance and guidelines.
– Access to the Cenote dive site
Going with a local cave guide could save you the time and frustration of getting to the dive site and being denied entry.
– Culture
All our cave dive guides have a true passion for caves in general and cave diving. They all have experience in underwater cave exploration and survey.
– More Culture
Living in the Riviera Maya, fluent in Spanish and English (at least), you learn a lot about the Mayan culture, the local fauna, the local flora, etc…
CAVE DIVING TRAINING
The first step in the Overhead environment. You will learn all safety protocols within the daylight zone.
That's it! This is the first step in the dark caves. You will learn how to do simple cave dives beyond the daylight zone.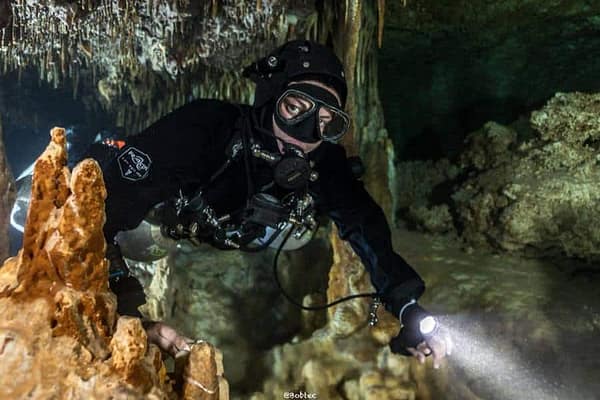 Caves can be very complex, especially in Mexico. We will combine all the previously learned skills with complex navigation and more.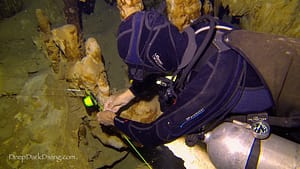 CAVE DIVING MENU
Cave diving in the Cenotes North of the Riviera Maya
Cenote Chac Mool.
Visit the famous monster, the biggest submerged stalactite
Cenote Chikin Ha – Cenote X Tabay
Right next to each other, these two cenotes are not connected yet.
It's a great place for cave diving training; you can go back and fully enjoy the place once you get your certification and continue your education with stage cave diving and enjoy the traverse to Cenote El Eden (Ponderosa).
Cenote Cristal
The Cenote Cristal is part of the Ponderosa system. It is a beautiful place, and the owners often change their minds regarding cave divers. Sometimes, we have the privilege to enter, and sometimes not… Remember, that's one of the reasons you need a guide. If you can't dive there, your cave guide will always have a great backup plan.
Cenote El Jardin del Eden
Another amazing place that you probably already know if you did your cave diving training here is the Riviera Maya. If it is your first-time cave diving here in Mexico, this is the place to have your first experience in diving into the halocline. A nice circuit will take you from one side of the open water to the other through the famous "River Run." A jump from this line will take you to Cenote Escondido. And if you feel like a long dive, you can reach Cenote Xtabay.
Cenote Minotauro
Minotauro is an underwater cave system that you want to know about!
From Greek mythology, the minotaur was a creature with the body of a man and the head of a bull who lived in a labyrinth.
This system is a labyrinth with different levels. Starting your dive from Cenote Minotauro, you may reach other Cenote Estrella, Cenote Winz, and Cenote Escalera.
All passages are fairly small but are accessible with a back mount configuration. And if you are diving side mount, it can be fun to go off to the side passages even briefly.
You will feel privileged to dive into these dusty passages nicely decorated with brownish speleothems and light sediment. Following the Ariadne line, you will feel like Theseus hunting…
Maximum depth: 50ft/15m
Check our video of cave diving in Minotauro
Cenote Buena Vista
Cenote Taj Ma Ha
Delving into the beauty of the Tajma-ha cave system, specifically the mesmerizing Room of Reflections upstream from Cenote Buena Vista.
Cenote Xunnan Ha
Cenote Xunaan-Ha, translated as the 'Goddess of Water,' is a stunningly clear cenote nestled in the charming village of Chemuyil. As the fourth longest cave system in the Riviera Maya, it's a hidden gem highly favored by cave divers. Snorkelers are welcome to experience the awesome and shallow crystalline waters. Cenote Xunaan-Ha offers a peaceful and tranquil escape for those seeking a serene time away from the crowds.
Cenote Cup 1
Cenote Nai Tux Ha
Cenote Nai Tucha is an integral part of the extensive cave system known as K'oox Baal, which includes the Tux Kapaxa caves. The convergence of these two cave systems has resulted in the creation of the third-longest underwater cave system globally, with the K'oox Baal system boasting a remarkable total length of over 100 km. This vast network stands as the world's largest cave system, meticulously mapped in its entirety.
The symbolic culmination of numerous years of dedicated exploration, the connection between K'oox Baal and Tux Kapaxa caves signifies a significant milestone. Explorers devoted countless hours to underwater dives in the caves, conducting extensive research, hacking through uncharted and perilous jungles, transporting and maintaining equipment, driving vehicles, and overseeing numerous repairs.
Between 2006 and the conclusion of 2011, the relentless efforts of explorers led to the discovery of over 30 km of new space within the K'oox Baal cave system, extending its length to an impressive 120,541 ft (36,741 m). On December 9, 2011, the merging of the two cave systems resulted in the consolidated name K'oox Baal. With a total length now reaching over 100k m, it proudly claims its position as the third longest underwater cave system globally. Notably, it holds the distinction of being the longest cave system worldwide with a fully mapped layout, including contours and fills.
Cave diving around the Dos Ojos area
Cenote Dos Ojos
Cenote Dos Palmas
Cenote El Toh
Cenote El Pit
Cenote Tak be lum
Cenote Sac Actun – Pet Cemetary
One of the most famous dives is probably leading to the spectacular blue abyss, with highly decorated passages. The rest of the cave is also highly decorated.
Cenote Nohoch Na Chich
Cenote Caracol
Cenote Fenomeno
Cenote Concha
Cemnote Nariz – Otoch Ha
Cave Diving in the Cenotes in Tulum Area
Cenote Calavera – Temple of Doom
Gran Cenote
Cenote Carwash – Actun Ha
Cenote Kalimba
Cenote Zacil Ha
Cenote Angelita
No cave diving in Cenote Angelita. It's a big deep sinkhole hidden in the middle of the trees near the highway. It is located south of Tulum, past cell coverage. With a maximum depth of over 57m, it is a great spot for the final dives of the Deco procedures and Extended Range training.
The sulfur cloud at a depth of 28-30m is a few meters thick, very dense, quite stinky, and has very poor visibility. It creates a creepy atmosphere, is a good challenge, and is interesting to cross. As we often say in the area, diving Cenote the Pit is like a dream. Diving Cenote Angelita is like a nightmare.
Laguna Kaan Luum
This beautiful laguna is heaven for swimmers with its large shallow water area. The crystal clear waters are warm all year round, and the beautiful setup makes it a very attractive spot. And then… quite a distance from shore, this deep pit is in the middle of the laguna. This is one is heaven for freedivers and tech divers.
With a maximum of 90m deep, it is now officially accessible for tech divers with a local certified tech diving instructor.
The perfect site for tech training. With its wide range of depth, it is ideal for training. We can practice descents and ascents and repeat until satisfactory and become proficient. Unlike ocean training, we are not tight to the boat schedule. We have no stress and can focus on tech skills: controlling the descent and the ascent, holding buoyancy and trim, following a dive plan, and solving emergencies.
Cenote Dos Pisos
Cenote Naharon
Cenote Mayan Blue
Cenote Jail House
Cenote Chan Aktun Ha
Cenote Chan Hole (small Hole)
Cave diving in the Cenotes in the Muyil area
Cenote Doggi
Access to this cave dive site is only limited to certified cave divers in Side Mount configuration. The challenging and interesting entrance hides an unexpected gem. The cave is beautifully decorated with white speleothems in all sections. And to make the pleasure last longer, it is a very shallow cave to visit if you are a side mount cave diver. If not, we will happily train you all the way.
Cenote Caterpillar
In the middle of a quarry, the opening of the cenote Caterpillar happened by accident.
Cenote Xulo
Cenote Mosquito factory
Cenote Galaxia