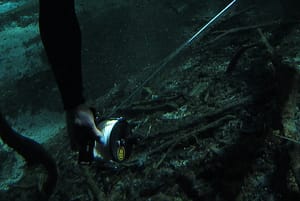 Unleash Your Diving Potential with TDI's Intro to Cave Diver Course
Get ready to elevate your diving skills to new heights with the captivating TDI Intro to Cave Diver course set amidst the enchanting Cenotes. After experiencing the exhilaration of cavern diving and venturing into the world of overhead environments, it's time to embark on an extraordinary underwater journey that will expand your horizons and ignite your sense of exploration.
Dive into the Enchanting Depths of Cenotes
Picture yourself descending into the mesmerizing depths of the Cenotes, where ancient limestone formations guard hidden passages brimming with mystery. The TDI Intro to Cave Diver course is designed to equip you with essential skills and knowledge, ensuring your safety and confidence as you navigate these ethereal underground labyrinths.
Master the Art of Safe Cave Diving
Led by experienced cave diving experts, this course places paramount importance on meticulous planning and safety procedures. Before each dive, you'll engage in comprehensive briefings, where the instructors will meticulously review the dive plan, emphasizing critical factors such as entry and exit points, potential hazards, and emergency procedures. These sessions will instill a deep understanding of the cave environment and the precautions necessary to explore it safely.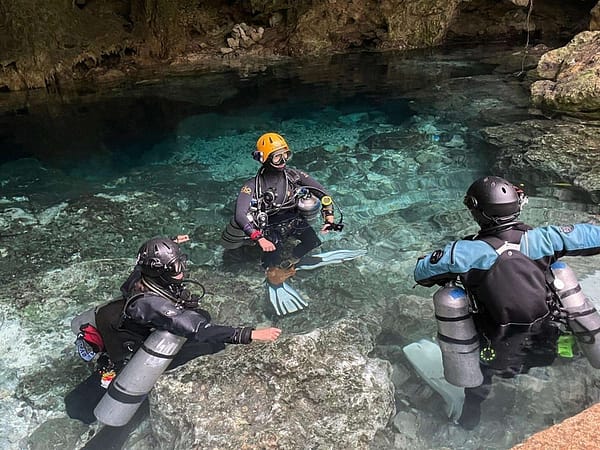 Elevate Your Skills with Expert Guidance
During the course, you'll learn essential techniques for line handling, an indispensable skill that keeps you oriented and aids in navigation. You'll practice buoyancy control techniques to maneuver gracefully through tight passages while maintaining environmental awareness. Communication skills will also be sharpened, as clear and concise communication with your dive buddy and the instructor is crucial for a safe and enjoyable cave diving experience.
Dive Further, Dive Safer with Deep Dark Diving
Throughout all cave diving training, safety remains the utmost priority. You'll be taught how to assess potential risks and make informed decisions, including when to abort a dive if conditions become unfavorable. Emergency procedures, such as gas management and dealing with equipment failures, will be thoroughly covered, ensuring you are prepared to handle unexpected situations with confidence and composure.
Deep Dark Diving's experienced instructors will closely guide you through each dive, offering constant support and guidance. They will share their extensive knowledge of the Cenotes, pointing out remarkable geological features and ensuring you have an unforgettable and immersive experience while maintaining a strong focus on safety.
Are you ready to embark on this unparalleled adventure, adventuring into the captivating world of cave diving? The TDI Intro to Cave Diver course awaits, offering you the opportunity to explore the breathtaking Cenotes while honing your skills and knowledge under the guidance of qualified professionals. Let the enchantment of underwater exploration and meticulous safety procedures merge as you uncover the hidden wonders of the Cenotes. Get ready to dive in and embark on an unforgettable journey!
Prerequisites
Cavern Diver certification or equivalent
Intro to Tech or Side Mount (course available and can be combined with the Cavern Diver course)
Minimum age 18, 15 with parental consent
Qualifications of a certified Intro to cave diver
"Rule of thirds," OR 1/6th if using doubles
Maximum depth of 40 meters/130 feet.
Proper cave diving equipment must be used
Maintain a continuous guideline
Progress on to the next level:

Full Cave Diver course

!
Intro to cave diver's Gear
double cylinders or dual valve manifold
Two independent first and second-stage regulators; one regulator equipped with a long hose (2 meters / 7 feet)
Buoyancy compensator device (BCD) with power inflator
Exposure suit adequate for the diving environment
Line cutting device
Three battery-powered lights; 1 primary and 2 back-ups
Safety reel/spool
One primary reel
Computer, watch or bottom timer and depth gauge
Slate or wet notes with a pencil
Submersible dive tables or backup dive computer
Directional and non-directional line markers
Duration of the Intro to Cave course
Minimum 4 days as a Standalone
Open water training
minimum 4 cave dives
Theory: minimum 4 hours
More courses related to the Intro to Cave diver training