DPV (Diver's Propulsion vehicles) or scooters can be used in cave diving to further increase the penetration distance, to carry additional tanks or dive equipment into the cave. DPVs are a great tool for exploration and survey and of course, DPV diving can be really fun but it requires proper DPV Cave diver training.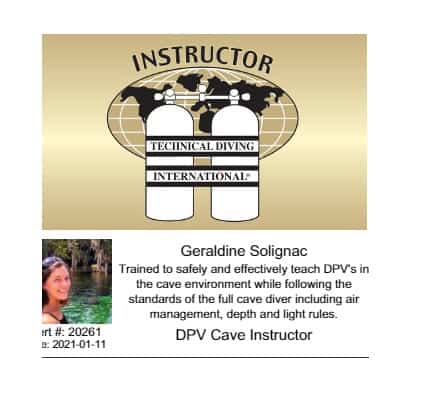 Proper training, good knowledge, proper dive planning, and contingency planning are required to cave dive safely while using a DPV.
For several years Géraldine has been successfully diving with a DPV into the cave for exploration, survey, and for fun of course. As an experienced cave diving instructor, she will proudly share her knowledge and personal experience to guarantee safe and fun diving.
Pre-requisite:
Minimum age 18
Certified as a TDI Full Cave Diver or equivalent
Provide proof of at least 25 non-training full cave dives
Duration: 3-4 days